Archive for
August, 2017
Contributed by Dr. Sarah
Two months ago, I made the tough decision to give up my very eco-friendly all-electric NissanLEAF– the topic of the now-concluded Spheres of Influence blog series "The SilverLeaf Chronicles."
Now, the Eco Reality blog series begins. And the Hybrid Honda Accord that I've named "The Reality" is introduced. The color I had to settle on because the gorgeous shade of red isn't available in the hybrid: Modern Metallic Steel. For the first time in my life, I actually wanted a red car. But I'm not unhappy with a charcoal gray car. It's handsome. So far, I'm happy with this car. I've gotten as much as 55 MPG– which exceeds the EPA rating!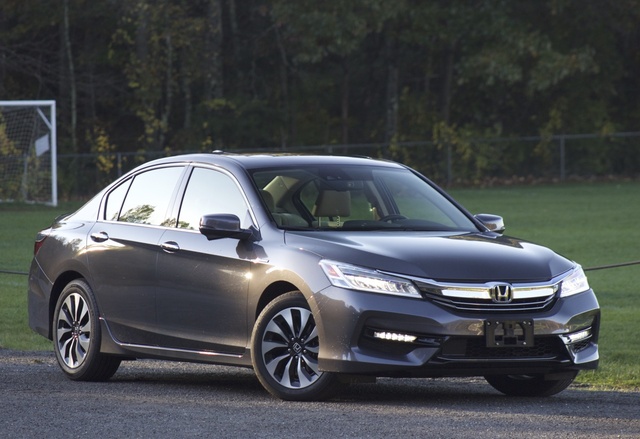 Why was the decision to go from an all-electric car tough? Mostly it was difficult because I felt really good about driving a zero-emission car. It was also fun to drive– it was sporty.  And it was nearly free if you consider the monthly payment as being offset by savings on gas. When I see a NissanLEAF now, my heart still skips a beat. I feel like an honorary member of that "club."
I really wanted to make the electric car "work" in my life. It was a commitment I wanted to sustain. But I couldn't. As a single parent of two special needs boys and the daughter of an aging mother, my "sandwich generation" brain doesn't have the bandwidth to constantly think about how to next charge my car, and wondering if I have the battery range to make it to the next destination. In three years, I only ever ran out of battery once– half a block from my house!  But once was enough. With other stresses in my life that I can't eliminate, I had to lose the stress of worry about battery range.
Hence, the name of the new car: The Reality.  Reality is a constraint on our lives– in the eco realm, and in other realms.  As concerned as I am about the future of the planet for our children, as committed as I am, I believe that we need to allow ourselves to make choices that work for us, without "eco guilt."
We can challenge ourselves to make environmentally responsible choices in those areas of our lives where we can– and importantly– to write letters and make calls to our elected officials to support them in voting in the strongest possible environmental policies. The policies we put in place locally and regionally can help offset the major losses we're facing on the Federal level right now. Our voices matter.
And so, we navigate the obstacle course of life, and live with The Reality. Onward.